[no_toc]
The best bars in Austin don't have a type. But you knew that already.
The best bars in Austin are some of the best bars in Texas on the whole. The best dive bars in Austin are real honky-tonks — preserving old Austin culture in the face of the tech onslaught. The best cocktail bars in Austin stack up with any in New York — let alone Dallas and Houston. The best bars in Austin for live music are big parts of the cultural fabric of the city.
The best sport bars in Austin count cowboys and tech execs among their regulars. The thing that unites them is the Longhorns.
Heck, love of the Longhorns transcends sports bars. Goodall's Kitchen & Bar, one of the best hotel bars in Austin, used to feature a Longhorn Margarita as its signature cocktail.
The best bars in Austin TX are all over the spectrum — but they have something in common. They're the labs where Austin's weird and wonderful culture is constantly evolving.
Best Sports Bars
2021 marked Austin's entry to major league sports with the inaugural season of Austin FC. But Austin sports fans haven't really needed it — they've been spoiled for choice for most of the city's modern history.
The Longhorns are first — in preference and often in the standings. Their baseball team is the winningest team in NCAA Division 1 history, but they're not the team that brings in the most fans. Longhorns football is legendary around these parts, packing Darrell K Royal Memorial Stadium, the ninth-largest stadium in the world, on a regular basis.
And Longhorns basketball? The University of Texas is the alma mater of Kevin Durant, perhaps the best basketball player in the world.
Besides all that, Austinites have their choice of 12 pro sports teams in the rest of Texas to root for. Not having a local team has its advantages.
So it should come as no surprise that Austin sports fans are passionate. Here are the bars where they show up best.
Cover 3
Multiple locations
What to order: They have 6 margaritas on the menu
Since shuttering their downtown location, Cover 3 is down to two Austin locations — that is, if you include their 'Cover 2' north Austin branch, and exclude the Round Rock spot. It's remained one of the best sports bars in Austin, on the strength of their made-from-scratch menu and upscale sports bar concept. The proof is in the pudding — Cover 3 has won Do512's 'Restaurant of the Week' award and had their Chop-House burger ranked by Texas Monthly as the 12th-best burger in the state.
The League Kitchen and Tavern
Multiple locations
What to order: Check out the 4 mules on the menu
The concept should be familiar to nostalgia hounds — The League is a Prohibition-themed bar that skips the bathtub gin in favor of fried pickles and blood orange Prosecco spritzes. Buttoned diner booths surround the tables, providing shelter from the flat-screens of the bar section.
The Park
Multiple locations
What to order: Weekend brunch features 5 flavors of mimosa
OK, you know the drill — not your run-of-the-mill sports bar, with a scratch-made kitchen and tastefully-placed flat-screens. What makes The Park unique? Let's start with their generous happy hour offerings, which range from Monday's all-day drink specials to a four-hour sweet spot for margaritas and sirloin sliders. Park-ing tends to be easy at their downtown-adjacent locations. There's even a tree growing out of their large South Lamar terrace.
The Tavern
Location: 922 W 12th St, Austin
What to order: One of the top chicken wings in Austin
Before there was Austin FC there were the Austin Aztex, which played in the United Soccer League. The Tavern was their home.
Here are some fans drinking from their USL-PDL Championship trophy in 2013: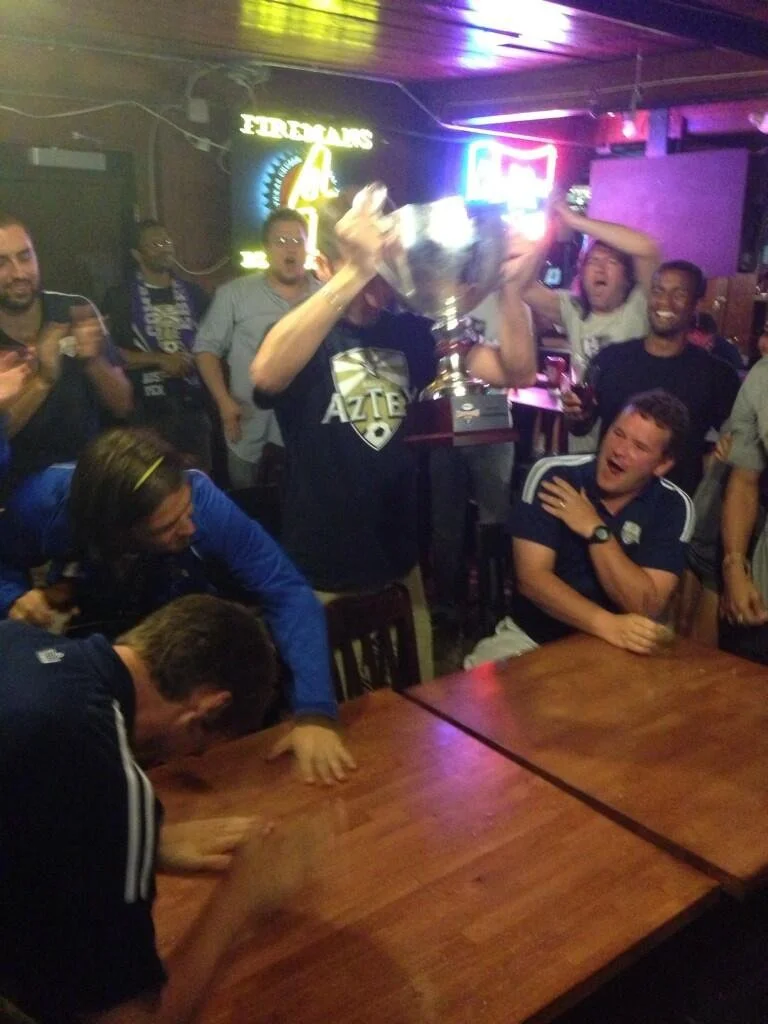 The team dissolved in 2017, but The Tavern still contains multitudes. Over its 5,000 square feet, it houses the Esther's Follies comedy troupe, the all-hours Star's Café, 30-plus flat-screens over two floors and a dog-friendly terrace.
BBG's
Location: 214 E 6th St, Austin
What to order: Their chicken wings come in 11 different flavors
Remember 'breastaurant' chain Bikini's Sports Bar and Grill? BBG's is its replacement, with the same corporate overlords but fewer bikinis. But let's not bury the lede — BBG's does everything a sports bar should, with a long bar facing several flat-screens, a good offering of local beers and pub classics, and some great 6th Street energy.
Best Dive Bars
Austin's dive bars are a crucial part of the 'keep-Austin-weird' culture. As Travis Tober, co-owner of Nickel City, told Tribeza, "They're one of the last remaining places where people of all walks of life can still hang out in the same room, and Austin is better for it."
Giddy Ups
Location: 12010 Menchaca Rd, Austin
What to order: Choose from 3 whiskey flights
Giddy Ups is a classic honky-tonk, with live music, karaoke and shuffleboard tournaments throughout the week. It's also home to the "Biggest Little Stage in South Austin," and the annual Spring Fling Music Festival.
Deep Eddy Cabaret
Location: 2315 Lake Austin Blvd, Austin
What to order: The cheapest bottle of Lone Star in the area
Deep Eddy Cabaret may be the most legendary honky-tonk on this list. There's no live music on the schedule most nights, just a well-worn lounge surrounded by souvenirs of drinking sessions past, a classics-packed jukebox and fellow day drinkers. Though the swimming hole it was named after has since dried up, this watering hole continues to draw all types. Just remember — they don't run tabs, even with the credit card company!
Barfly's
Location: 5420-B Airport Blvd, Austin
What to order: Lone Star and Jäger combo
Barfly's opened in 2001, and fulfills its dive bar mission so well that it's made USA Today's 10Best roundup of top bars in Austin of any type. There are no house cocktails or live music — instead they've got pool, foosball, arcade games and a big smoking section on the patio. Most essential for a dive bar, they've got the vibe down pat.
Ego's Lounge
Location: 510 S Congress Ave Austin
What to order: Strong mixed drinks
Wondering where it's always karaoke night? Check out Ego's from 8 pm to 2 am seven nights a week for a great song list and some of the best karaoke singers in town. Just know what you're getting into. They take their karaoke seriously and won't hesitate to kick out rule-breakers and piss-takers — check out their love-them-or-hate-them Yelp reviews to get a sense of visitors' wildly divergent experiences.
The White Horse
Location: 500 Comal St, Austin
What to order: 3 words: Whiskey. On. Tap.
If you're looking for a honky-tonk in East Austin, just follow the yellow-painted cinder blocks. The White Horse has live music every night of the week, a big dance floor, a photo booth and a shoe shine station. Condé Nast Traveler calls it "perhaps the coolest honky-tonk in Austin." It's a great place for cowboys, birthday girls and fun enthusiasts of every stripe.
Best Live Music Bars
Austin is the 'Live Music Capital of the World' — so it should come as no surprise its live music bars get their own category.
Gone are the days where live music was exclusive to 6th Street — now, Austin has great live music all over the map.
Austin Chronicle has a great live music calendar here.
Mohawk
Location: 912 Red River, Austin
What to order: They have a 'Build Your Own Bloody' menu
Mohawk is one of Austin's main all-ages venues, with a heavier slant on the music and plenty of it. Between their indoor and outdoor stages — not to mention a full-service roof deck — visitors can expect to be entertained most days of the week. They have an everyday happy hour for the quiet times between.
Continental Club
Location: 1315 South Congress Ave, Austin
What to order: Local draft beer
The Continental Club started out in the 50s as a swanky supper club before becoming Austin's first burlesque club. In the 70s it become what it is today — one of Austin's most legendary live music venues. Standard-bearers from Stevie Ray Vaughan to Link Wray to Robert Plant to Willie Nelson have graced the stage. "It was kind of a cosmic cowboy bar, mixed in with some rock and blues," employee Dianne Scott told the L.A. Times. It still has that classic vibe going, winning the Austin Chronicle's 'Best Intimate Live Music Venue' award two of the last three years.
Elephant Room
Location: 315 Congress Ave, Austin
What to order: They've got 20 draft beers on top
This basement bar has been called one the top 100 jazz clubs in the world by DownBeat Magazine. It's got music every night of the week, starting at around 9.30 pm. Come early for the happy hour, 6–8 pm, and to make sure you get a table.
Empire Control Room & Garage
Location: 606 E 7th St, Austin
What to order: Go to their crawfish boil next SXSW!
Empire is a super-modern club, with 15,000 square feet of concert space spread across three stages — the giant, 1,000-person capacity garage, an indoor space called the control room and a creekside patio. Make sure you come early to get good sightlines for the low-rise stage, and watch out for the auto-gratuity they've been known to put on checks at busy times.
Best Gay Bars
Austin is one of the most LGBTQIA-friendly cities in the US, and it has a thriving queer culture to show for it. The city had gay bars before the gay liberation movement of the 1970s came to Austin, and its nightlife has only gotten stronger since.
Most of Austin's gay bars are clustered around 4th Street — the Warehouse District.
Oilcan Harry's
Location: 211 W 4th St, Austin
What to order: $1 mimosas on Sunday Fundays
This is Austin's oldest gay bar and still one of its best, regularly featuring on 10best lists and Austin Chronicle's best ofs. This gay mainstay has three bar areas, and no shortage of karaoke, drag king and queen shows, bingo, amateur strip contests and themed parties like 80s' nights.
Rain of 4th
Location: 217 W 4th St, Austin
What to order: Sidle up to the front bar and order from Bobby
Down the street from Oilcan is Rain, which has a similarly storied reputation. Check out its six-year Austin Chronicle 'Best LGBTQ Hangout' run of the mid-to-late aughts. While it might not be regarded as the top spot anymore, its disco ball still shines down on a packed crowd most nights, with drag shows, strip contests and theme nights to keep them dancing.
Cheer Up Charlies
Location: 900 Red River St, Austin
What to order: Wunder-Pilz Kombucha on tap
Cheer Up Charlies picked up where Oilcan and Rain left off, winning pretty much every Austin Chronicle LGBTQIA best of from 2010 to the present. How did it manage this stunning takeover?
It's more than just a gay bar. Charlies won Austin Chronicle's 'Best Intimate Live Music Venue' award in 2018 and 'Best Cocktail' in 2015 for the kombucha-whiskey-ginger Golden Ticket.
"This place is just welcoming, period," artist Juan Wences told the Austin Chronicle. "You have all walks of life on that dance floor moving and grooving together like Gaga intended."
The Iron Bear
Location: 301 W 6th St, Austin
What to order: $6 beer pitchers on Sundays
We had to save a spot on the list for Austin's only bear bar! With underwear nights, drag brunch and Musical Mondays, this bear bar has something for everyone.
Best Patio Bars
Patio bars have always had a special place in Austinite hearts, but since the pandemic they've been essential! Here are some of the best.
Yellow Jacket Social Club
Location: 1704 E 5th St, Austin
What to order: Lone Star beer to complement your Frito pie
If you're in East Austin and hoping to eat better than the girls on that show, grab a picnic table and a Frito pie, or maybe one of Austin's best grilled cheeses. For this and many other reasons, Yellow Jacket has been buzzing up the patio power rankings.
Yard Bar
Location: 6700 Burnet Rd, Austin
What to order: Something off their 'Hair of the Dog' menu
We've spent a bit too much time talking about what humans like — what about our four-legged friends? Yard Bar's got them covered, with a patio doubling as a dog park and specific breed meetup days, as well as all the things humans like.
Hula Hut
Location: 3825 Lake Austin Blvd, Austin
What to order: Hu-La-La — the signature cocktail
Hula Hut's patio is right next to another thing people love about the outdoors — water. They've been serving Tex-Mex with a Hawaiian twist since 1993 under a lakeside thatched roof.
The Little Darlin'
Location: 6507 Circle S Rd, Austin
What to order: Their version of a michelada — a beer and Bloody Mary popsicle
At the intersection of dive and patio bar sits the Little Darlin'. Intended as a hangout space first, Darlin's huge patio nails the vibe with lawn games, bench swings and a more relaxed atmosphere than 500 people gathered in one place usually produce.
Scholz Garten
Location: 1607 San Jacinto Blvd
What to order: A German beer and a build-your-own sausage
Transcending the patio bar category, Scholz Garten is the oldest business still operating in all of Texas. Opened by German immigrant August Scholz in 1866, it's stayed remarkably true to its original mission — a place where everyone can come together and hash out their differences over a pint.
Best Hotel Bars
Austin's hotel bars have become a new home for the city's cocktail culture. The following hotel bars are for more than just tourists.
Geraldine's, Hotel Van Zandt
Location: 605 Davis St, Austin
What to order: Geraldine's G&T
Geraldine's is good for more than just pretty views of Lady Bird Lake. Kimpton, the adjoining hotel's operator, is known for their chef-driven, independently-operated restaurants, and Geraldine's has a glam swag all its own. Warm up by the fireplace before tucking into their library of American whiskeys and agave spirits.
The Driskill Bar, The Driskill
Location: 604 Brazos St, Austin
What to order: The Batini, aka the official cocktail of Austin
The Driskill is still the grandest of all Austin hotels, and its bar is no less impressive. Built in 1886 by cattle baron Jesse Driskill, the Driskill Bar still has its worn-leather authenticity. If raspy-voiced piano players and 19th century ranch grandeur are your things, you'll be happy you came.
Goodall's Kitchen & Bar, Hotel Ella
Location: 1900 Rio Grande St, Austin
What to order: The Longhorn Margarita is out — get the Ellavation instead
Goodall's drinks lean in an exotic direction, especially considering the prim and proper surroundings. Their menu is elaborate at every turn, whether you prefer a rich drink like the Parts Unknown — Tito's, Caffe del Fuego, Godiva Dark Chocolate and Disaronno — or the tamarind-orgeat-mezcal-rum blend of The Statesman.
The Secret Bar, W Austin
Location: 200 Lavaca St, Austin
What to order: A martini, don't skip the vermouth
There are no secrets anymore in the internet age. Well, to be fair, if you really want to have a secret bar, there are better places to put it than inside another bar in a W Hotel. But you didn't come here (through the Records Room in the W's Living Room Bar) to be a stickler, so get a drink that complements the Mad Men vibe and play along. Open from 6 pm until late, Thursday through Saturday.
Bar Moxy, Moxy Hotel
Location: 2552 Guadalupe Street, Austin
What to order: $12 mimosa carafes on Sundays
There aren't too many hotel bars that could pull off a Mean Girls–themed MONTH, but Bar Moxy managed to do it in 2021. It's a cute bar with a lot of gimmicks — like swings, ping pong, table games, fire pits and 24-hour tacos. If being close to the university doesn't faze you, you'll be in for a good time.