Land clearing is one of the biggest steps in a property reclamation project — and one of the most complicated. With home values climbing all over the central Texas Hill Country, land clearing services are more in demand than ever.
So you've looked up 'land clearing near me' and you have an idea of what you want your property to look like after. Now comes the tricky part. What kind of equipment is needed — and what is land clearing's cost? More to the point, what is the cost per acre? These are the answers this article aims to provide.
What Is Land Clearing?
Land clearing can encompass a wide range of methods and purposes. On a basic level, it involves removing in-ground obstacles for land improvement or construction projects.
These obstacles include trees, stumps, brush, rocks and other issues with the ground's integrity. The process takes the end goal into account— a construction project will require different land clearing services than farmland or an undeveloped lot.
Clearing land for farmland usually involves clearing brush, trees and rocks, removing stumps and smoothing out large holes. Because of the amount of land needed to operate a successful farm, land clearing for these purposes is usually less complicated — more involved land clearing wouldn't be practical over hundreds of acres.
Those intending to build a new home on a picturesque piece of land will oftentimes require more intensive land clearing services. Such land clearing may focus on previously unusable land, clearing thick brush or forest.
Grading the property is often part of the new construction land clearing process. On this step, erosion prevention and drainage control may also be undertaken to ensure the land will hold up over the years. Installation of wells or septic systems may also be part of this process.
Other associated work includes:
Access roads
Demolition of existing structures
Electric and water connections
Excavation for basement or foundation
Landscaping
Soil tests
Methods of Land Clearing
There are several ways to accomplish your end goal. They all have strengths and weaknesses — in price, time and difficulty. They also require different equipment.
These are your main options:
Mulching
Mulching is a land clearing process which puts ground-up vegetation back on the topsoil. This provides a natural barrier against invasive species and promotes regrowth of natural vegetation. When using a mulcher in land clearing, you reduce the damage done to the land and the need to come back and repair it.
Mulching equipment comes as either application-specific tractors or as attachments for forestry tractors, skid steers or excavators.
Dedicated forestry mulchers can clear up to 15 acres of vegetation a day. They can take down everything up to medium-sized trees, turning them into mulch where they stand.
Stump grinders can tackle bigger trees. They cut the tree stumps level with the topsoil, so that they decompose over time.
Mulcher attachments are better suited to lightly-wooded property, and can be time consuming under the best of conditions. They often require the removal of trees and brush to a clear, level area where they can more effectively be mulched.
Mulchers can be tricky to use in urban areas — bystanders should stay at least 300 feet away from these machines, as debris and rocks can come ricocheting out.
Mulching is best for landowners who don't plan to grade or excavate the land right away. The mulch will need time to integrate with the remaining soil.
Bulldozing
Bulldozing is a rougher method of land clearing, but it can be an effective way of covering a lot of land fast.
This technique involves pushing over large brush and trees. Once the land has been cleared, a backhoe can fill in the large holes that bulldozers leave behind.
This method has a few drawbacks that might affect your future plans. One problem is that it can destroy your topsoil. This may make it less desirable for clearing future farmland.
Likewise, building projects may encounter problems in the roots that bulldozed trees leave behind. Dealing with these roots will impact your land clearing speed and cost.
There are a couple of other considerations to your bottom line here. Bulldozed material will need to be hauled away or burned — which will incur additional costs. And it will damage the trees you remove if you're hoping to sell them for lumber. Valuable hardwoods demand a bit more finesse than a bulldozer can deliver.
Burning
There are a couple ways that burning can be an effective land clearing technique. The first works with the prior method. Bulldozed material can be stacked and then torched — this is called a 'pile and burn.'
Another method is called a prescribed burn (or controlled burn). Prescribed burns are the fastest way to clear a lot of land — but they come with a raft of cautions.
First, the big one: prescribed burns have a history of getting out of control. This doesn't make it ideal for dry and windy conditions.
Here are some other issues:
Large root systems can't be easily cleared with this method. Soil clings to the roots of most plants, making burning difficult
Burning some plants, such as poison hemlock and poison ivy, releases toxic fumes to the air that aren't easy to contain
You can't selectively target certain plants and vegetation — burns kill anything in their path
Burning will sterilize the ground, making it impossible to grow anything for some time. This may open the door to invasive species taking over
It will also eliminate ground cover, increasing the possibility of erosion
Land Clearing Equipment
Land clearing equipment comes in many shapes and capacities. The catch? It comes at varying price points too.
Your equipment needs will depend on a few factors. Look at:
Whether you need to multitask. If you need to uproot large trees, crush heavy boulders and mow through heavy brush on the same plot of land, you'll need a more powerful machine
How big the area to clear is. Compact equipment or attachments may be suitable for smaller jobs — and easier on your wallet
The type of terrain you're targeting. Do you need a tracked machine or wheels?
Your debris disposal needs. You can haul it away, burn it, mulch it or chip it
Skid Steers
Skid steer loaders are compact machines capable of a variety of tasks. Their small size makes them easy to maneuver, but they are also surprisingly powerful. With the appropriate attachments, skids steers can handle brush, small trees, stumps, rocks, land grading and leveling.
If you've got a small area to clear, with few trees to deal with and some structures to avoid, a skid steer may be a good choice.
Backhoe Loaders
Backhoe loaders are versatile machines for big jobs, combining the abilities of a backhoe, wheel loader, tractor and excavator. The backhoe arm gets fitted with attachments to facilitate mowing, brush cutting, uprooting trees and stump grinding. Its front bucket loads material for hauling off, from vegetation to trees to boulders.
Bulldozers
Bulldozers are the pick for densely-wooded, rocky and sloped terrain. Their large front blades and heavy-duty tracks help navigate all manner of clear-outs. Depending on the size of bulldozer, it can take out thickets of brush or even whole trees. Smaller machines are surprisingly maneuverable as well.
Bulldozers can also dig up ground-covered rocks and break up hard, compacted earth with their rear ripper claw.
Excavators
Excavators are one of the most commonly-used pieces of land-clearing equipment. When you're looking to prepare ground for construction projects, an excavator is a must-have.
They come in various sizes, trading off versatility for power as they size up. Excavators are often used with bulldozers to haul away debris that the dozers have knocked down. They can also be used for uprooting trees and root systems, moving large boulders or rocks, breaking up compacted topsoil, digging and backfilling to level terrain, and cutting and mulching brush.
Brush Chippers
Brush chippers are one of the most popular solutions for eliminating knocked-down trees and brush. The best ones are capable of processing large volumes in little time, reducing dense wood and plant matter to compostable chips.
The highest capacity brush chippers can chip 20-inch trees, although most max out around nine inches.
Land Clearing Costs
Land clearing costs vary widely, keeping pace with the needs of landowners and developers. The following figures, sourced from lawnstarter.com, give a general range for you to consult as a starting point:
The national average land clearing cost is $2,581 per acre. Most land clearing services will charge you by the acre, rather than by the hour
The average price to clear a lightly wooded area is $733 to $2,333 per acre
The average price to clear a densely forested area is $3,395 to $6,155 per acre
In Texas, the average land clearing cost runs higher than the national average — $4,400 per acre according to angi.com
If you don't have many trees, brush removal services will cost far less — $20 to $200 per acre
Mulching is a costlier solution, averaging $400 per acre
If you need to tack on the removal of one or two trees — or if the tree is too big for traditional land clearing equipment — you'll need to call in an arborist. Tree removal ranges from $150 to $1,900
Stump removal is charged either per-stump or hourly. Pros typically set their hourly rates between $94 to $163 an hour. One large, nested stump might cost more — the national average cost is $326
There are several related costs as well. Permits average $200, surveys average $500, demolition averages $4.33 to $11.67 per square foot, and asbestos testing for old building demolition averages $496. An anti-erosion measure like hydroseeding costs between $0.08 and $0.20 per square foot
If you'd like to go the DIY route, you'll need equipment. Bulldozer rental averages $200 to $800 daily, stump grinders average $190 to $380, excavators average $200 to $3,500, and dump trucks average $200 to $2,000
There are several related costs as well. Permits average $200, surveys average $500, demolition averages $4.33 to $11.67 per square foot, and asbestos testing for old building demolition averages $496. An anti-erosion measure like hydroseeding costs between $0.08 and $0.20 per square foot
If you'd like to go the DIY route, you'll need equipment. Bulldozer rental averages $200 to $800 daily, stump grinders average $190 to $380, excavators average $200 to $3,500, and dump trucks average $200 to $2,000
Austin Land Clearing
Austin property owners know the challenges their land presents — from quick-spreading golden running bamboo to juniper trees, known locally as "cedar."
When left unchecked, bamboo and cedar can choke out native grasses and trees. One mature cedar tree consumes about 33 gallons of water per day, many times the need of more desirable trees like oak.  Some Austin land clearing services seek to restore the natural balance of the land by targeting cedar — which can actually increase the level of water in surrounding streams and creeks.
Dripping Springs Land Clearing
Just like Austin, nearby Dripping Springs also has a cedar problem. Although the city prides itself on its birds — which thrive on cedar — landowners are often more concerned about the wildfire and water-sapping threats these trees bring. Not to mention the dreaded "cedar fever" allergies of springtime.
When Dripping Springs properties are restored to their natural state, they teem with native wildflowers, succulents and grasses. The people attracted to building in Dripping Spring tend to find their land even more beautiful when some basic land clearing and reclamation has been done.
Best Land Clearing Services in Hill Country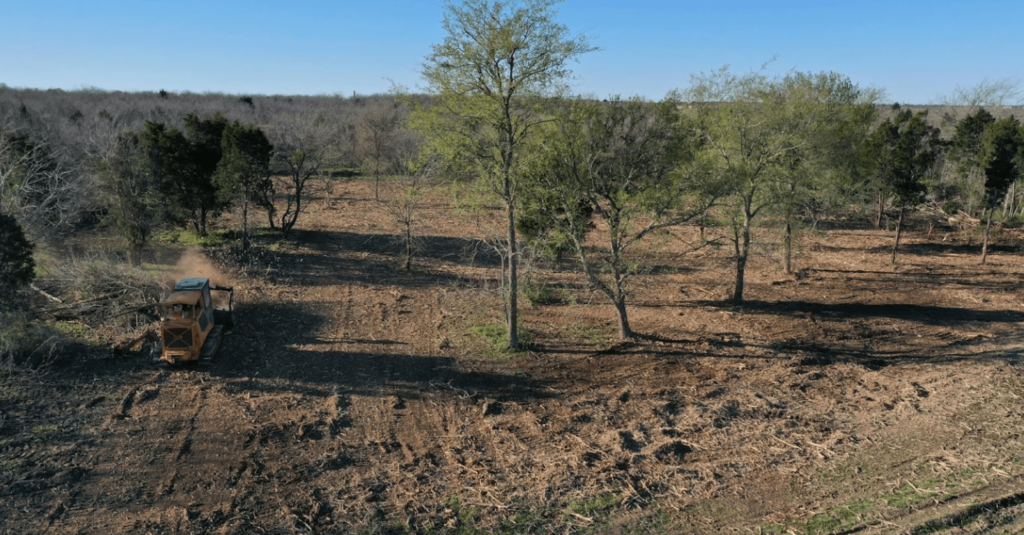 Of course, the best way to find out what clearing your land will cost is to consult with the professionals! The following are some of the best land clearing companies operating in Hill Country.
Pierce Land Clearing
Pierce land clearing is a full-range land clearing company, serving all of north and central Texas, as well as parts of Oklahoma. They offer tree and stump removal, rock crushing and milling, and site prep services — as well as much more. They have the capacity to take on larger projects as well as residential lot clearing. Their high-capacity forest mulchers are capable of mulching a tree up to 24 inches in diameter.
Kleensite
Kleensite is an innovative land clearing company focused on the removal of invasive species and the restoration of native hill country grasses and trees. Their portable burn boxes utilize 'Air Curtain Burn' technology to dispose of cleared piles — they've been tested and approved by the EPA, the U.S. Forest Service and the Department of Energy as an economical and environmentally-sound solution for eliminating wood and vegetative waste. These Kleenboxes can burn up to eight tons of cleared debris per hour.
Cathey's Tree Service
Cathey's Tree Service specializes in arborist services as well as land clearing. They can take on tree removal, tree trimming and pruning, canopy lifts and roof clearance, brush clearing, storm damage clean up, and complete land clearing. They even have a 'You Cut & We Haul Away' option.
R&M Land Clearing
Address: Austin, TX 78724
Phone: (512) 550-7288
R&M Land Clearing does land clearing, demolition and excavation work, as well as land grading and building foundations. They can also handle landscaping, drainage installation, gravel laying and pond work. They've been active in Austin for over 10 years, taking on a full range of projects at a reasonable cost.
Angel's Tree Service
Address: 14 West Rundberg Lane, Austin, TX 78758
Phone: (512) 436-1010
Angel's Tree Service is another land clearing company that specializes in arborist services. They can tackle tree trimming and removal, stump removal, ball moss removal and roof clearance as well as lot clearing and landscaping. Established in 2015, the team behind Angel's has almost 20 years of experience under their belt.
Cedar Eaters
Cedar Eaters is another environment-first land clearing company in the Austin region, although they service all of Texas. As it says in the name, their trademarked Cedar Eater™ mulching machines target invasive species like cedar trees and help restore a healthier habitat.
Conclusion
Land clearing is complicated work — luckily for Hill Country property owners, there are skilled companies up to the task. The first part of land clearing is deciding the future of your land, as well as your budget. Hopefully this article has helped you get part of the way there.
Once you know what you want, talk to the pros. DIY is always an option, but it may cost you more in the long run — particularly if you're counting on your newly-cleared land supporting a new construction project. It's always best to measure twice, cut once. The first step is knowing exactly what you're measuring.